What If You Could Get An Eye Exam in Your Pajamas?
A product review of Warby Parker's Prescription Check program
Recently, I noticed that the anti-UV coating on my glasses was wearing off.
So I started searching online for a new pair of glasses. However, when I found a pair of glasses I liked, the site told me that I had to renew my prescription since my last one was over two years old. But I didn't particularly want to schedule an appointment at the eye doctor's office, given the recent business in my schedule and rising COVID rates in MA.
Fortunately, a little googling allowed me to stumble across a nifty new app that completely blew me away with its novel user experience. I'd like to share it with you today.
Introducing Warby Parker's Prescription Check program: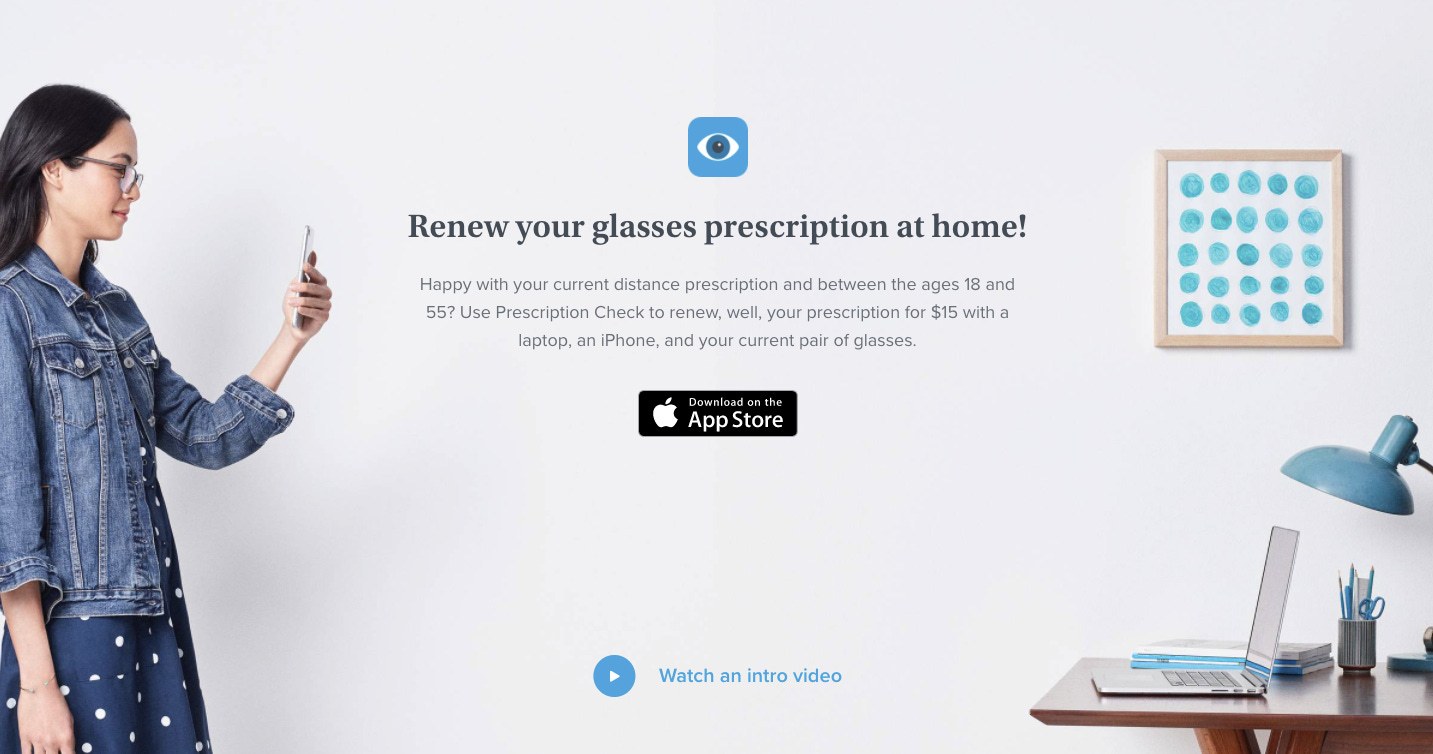 How It Works
For only $15, Warby Parker's Prescription Check program allows you to renew your prescription from the comfort of your home.
Here's how it works:
You download the app

You answer a few questions to make sure you're eligible
If eligible, you use your smartphone to calibrate your standing distance against a second screen (often laptop) which will administer the assessment

You use your phone as a remote to test your vision (including power and astigmatism) by following the instructions shown on your laptop screen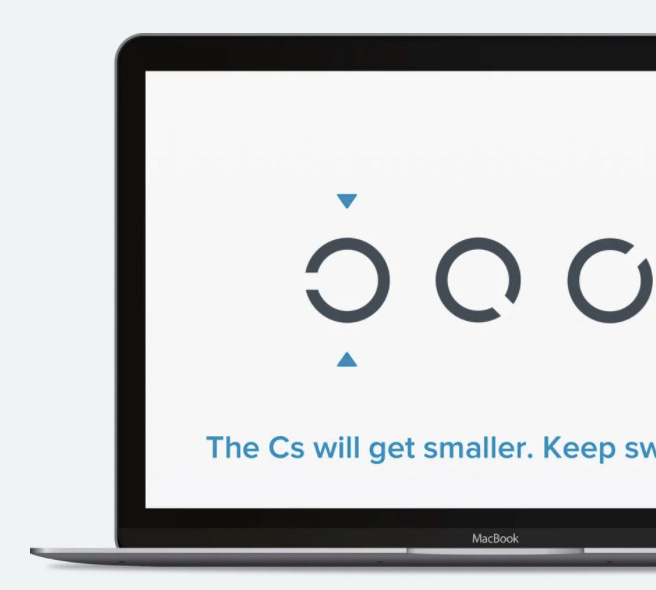 A doctor will review your results asynchronously within a few days and renew your prescription electronically if it hasn't changed significantly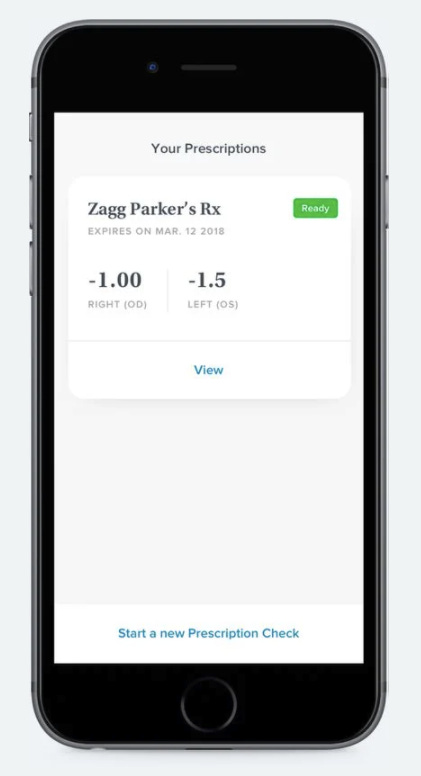 Notable User Experience (UX) Features
Conversational intake interface
Instead of a traditional digital intake form, the Prescription Check app uses a conversational interface to gather information about the patient. This interface asks one question at a time, and makes it easy to select common answers with a single tap.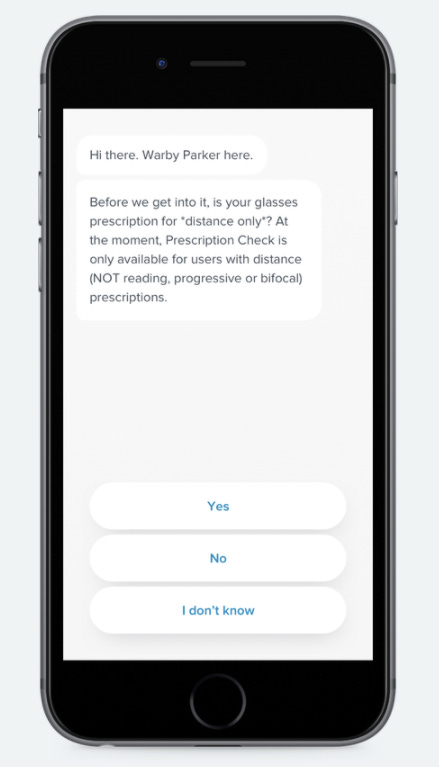 I find that this approach feels much more pleasant than traditionally-administered medical intake forms, and also reduces cognitive load. It also seamlessly creates the opportunity for a real-time "person-in-the-loop" handoff if certain edge cases are met.
I expect to see the best digital health companies eventually gravitate towards this type of form factor for intake forms in the future. (Side note: another cool company working in the "better forms" space is typeform - check them out!)
Objective distance calibration using a second screen
This was where the experience got really cool.
In traditional visual acuity test for an on-premise eye exam, the eye doctor needs to make sure you are a certain distance away from displayed letters to test how clearly you can see.
This problem of distance calibration is significantly more challenging in a home setting. However, Warby Parker tackled this challenge by:
invoking a second screen (like a laptop)

calibrating the size of the second screen using a reference object like a credit card and

displaying "reference squares" that your smartphone can detect to determine your distance.
That's a really creative UX!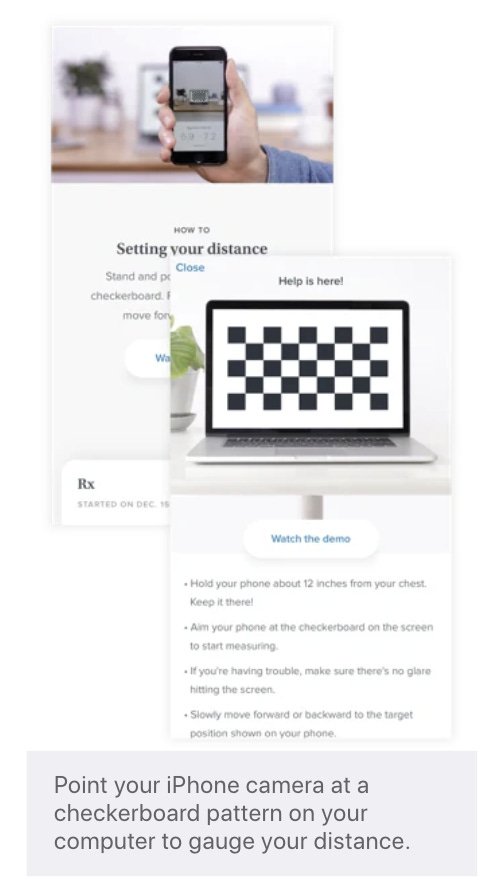 Using the smartphone as a "remote" for assessment
Once you are the correct distance away from your second screen, the Prescription Check app then uses a real-time (websockets?) connection between your laptop and the app to display a sequence of "C"-like patterns and has you swipe in the direction of the opening of the letter to determine your acuity. This was a lot easier than inputting responses into the smartphone with the keypad, and resulted in the whole exam taking around 10 minutes.
Delightfully, they even took advantage of the "Taptic Engine" on the iPhone to let you know that your input had been registered, without you even having to look to verify.
Pros
Convenient

No-touch (e.g. zero COVID risk)

Fast (15 minutes total compared to an hour+ at the eye doctor)

Cheap (only $15)
Cons
Doesn't actually check your eye health (this is a key reason to continue to visit the eye doctor!)

Currently limited to myopia and only up to a certain prescription strength (eye power of -6)

No data about comparability of results to an in-person prescription renewal - but it seemed legit
The Upshot
I'm really excited about the possibility of having more routine diagnostics done in a patient's home in the future.
In this case, Warby Parker has set the bar for what's possible, leveraging UX and technology to create a more convenient, cheaper, safer, and faster alternative to traditional eyeglass prescription renewal visits.
Do I think this is going to put eye care centers of out business? By no means — there will always be people for which an in-person visit will be better. However, I do think that over the coming years technology will enable more efficient and convenient care for a subset of patients with routine and simple concerns, freeing up time for healthcare professionals to work at the top of their license.
Finally, it's interesting to think about the possibilities that are opened up for at-home care by some of the UX and technology concepts we've seen today, especially in the space of physical therapy. Imagine:
Capturing patient-reported outcomes in a conversational interface, with the ability to loop in a real person as needed

Doing quantitative "Improvements in Movement" assessments via webcam

Measuring balance via the webcam

Measuring reaction time to cues presented in a second screen on the user's smartphone

Measuring max movement speed using a distance-calibrated smartphone camera

Pulling gait data from Apple Health on the user's smartphone
Healthcare is coming home.
Thanks for reading.
Like this article? Share or subscribe for in-depth pieces on digital health and the future of healthcare below: