zine 1: digital health n00b vs. pro
or, saturday drawing for fun
Hi everyone,
Today's post is a bit of a new format for me - I've decided to make a digital zine.
What is a zine (pronounced "zeen")? As described by Milwaukee's Bindery Project,
A zine is a self-published, non-commercial print-work that is typically produced in small, limited batches (ref)
I had some time to reflect this week on the nearly eight years I've spent in digital health and how my thinking has changed. I don't consider myself a "pro" yet by any means, but I do think my thinking has come a long way and I wanted to share some of the lessons I've learned with you. Plus, it's just kinda fun to draw comics. Anyway, without further ado: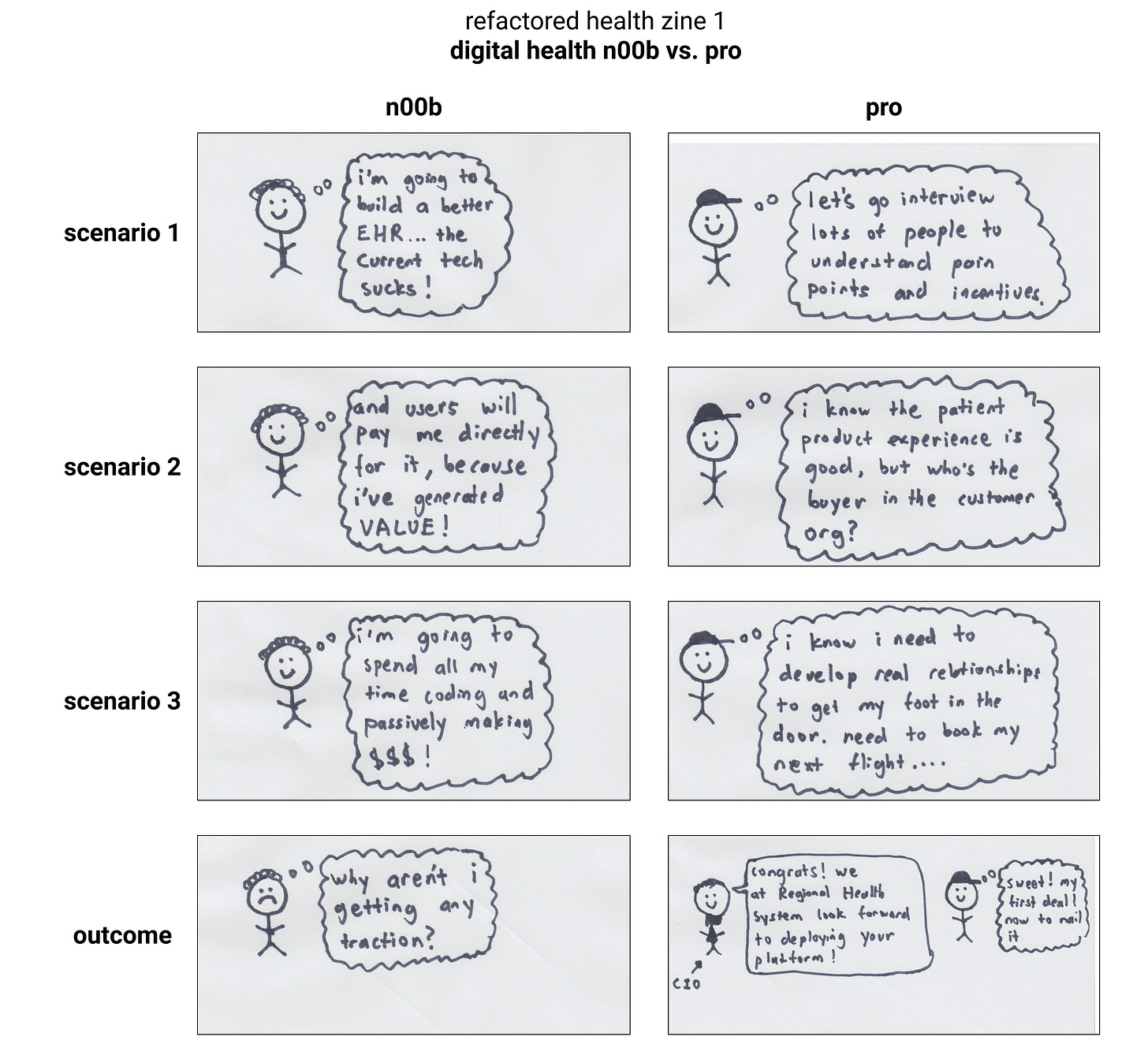 A few footnotes:
Scenario 1: "If you build it, they will come" does not apply very well to digital health. I'd argue that most pain points in healthcare are actually not due to failures of technology, but rather due to misaligned market incentives and inherent complexity. And please don't decide to try to build another EHR without doing a lot of research beforehand.

Scenario 2: Repeat after me: "My users are (probably) not my buyers. My users are (probably) not my buyers. My users are (probably) not my buyers." The flow of money in healthcare is often unintuitive to the uninitiated, so it's critical to deeply understand how your solution fits into the current value chain before you start building.

Scenario 3: In healthcare, especially in B2B business models, true success is often measured on the scale of decades, not years. Recognize that even the smallest deals with health systems can take 3-6 months, and more complex deals (for example with a national health plan) can take over a year in contracting alone. And often deals are won based on the strength of relationships and trust that's been built in person, so you'll likely need to get your butt out of your (office) seat and onto the next bus/train/plane.
Want more like the above? Subscribe below!